| | | |
| --- | --- | --- |
| About Rifle Target: Rifle Shooting Database | | |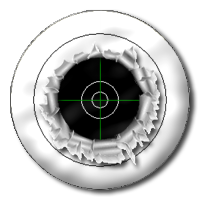 Rifle Target: Rifle Shooting Database by Enfilade Studios is the premier solution for coaching and plotting a target shooting team of the 21st century. Rifle Target is the solution to the needs of a target shooting team or to an individual shooter who wants to improve their performance. Rifle Target has the tools necessary to improve performance and efficiency out of sight. Rifle Target brings technology and power to the range.
Rifle Target is now available for purchase, but you can download a 30-day trial of the complete and fully-functional package to evaluate whether Rifle Target: Rifle Shooting Database is what you or your team needs.
Rifle Target is capable of managing many shooters simultaneously across many shooting forms and ranges. Rifle Target comes with built in support for various shooting ranges and disciplines from across the world including Australian, Canadian, ICFRA and Bisley (UK) target rifle, across the spectrum of ISSF long-arm (including air rifle) and short-arm ranges and a large number of NRA targets including pistol (A-series), smallbore (B-series) and high powered rifle (SR- and MR- series). However, you can extend Rifle Target by defining your own ranges, targets and forms for the discipline of shooting in which you partake.
Rifle Target has the ability to work with multiple records at a time and includes advanced statistical routines - ranging from the drawing of fall-of-plot cover circles to graphing multiple records together - to help a selector pick a team or a shooter to see their weak points.
Unfortunately (though for good reason) electronic equipment is often not permitted on the mound so Rifle Target can print your plot sheets too! But we recommend you train with Rifle Target and bypass the unneeded step of paper recording. Rifle Target is designed to function satisfactorily on low-end computers like older laptops (which may be all that is available) so you can take Rifle Target to the range with you. Rifle Target is designed to be both at the range on a laptop and on a desktop back at the club or at home.
Rifle Target has flexible licensing allowing you to not only trial the program for free for a month but also to purchase it based on who you are and what you want to use it for. For example, if you are a shooter then a Standard license may suffice. Similarly a selector or coach will be able to use Rifle Target both on his/her desktop and laptop at the range with a Standard license. But an entire club can buy a Club License allowing all its members to use the program at a much reduced price to buying that many Standard licenses.